Barack Hussein Obama (1936-1982)
Barack Hussein Obama was born in 1936 in Alego, Siaya, Kenya in the village of Nyan'goma Kogelo to Onyango Hussein Obama son of Obama K'Opiyo and Habibah Akumu daughter of Njoga. He started his education at N'giya Primary/Intermediate School from where he proceeded to Maseno School. He later proceeded to Hawaii University, Honolulu from where he was awarded a scholarship to Harvard University where he obtained his Doctorate in Economics. Having completed his education in the U.S.A. he returned to Kenya in 1964 where he ended up working with the Kenya Government as a Senior Economist in the Ministry of Finance and Economic Planning. He was killed in an automobile accident in 1982 leaving five sons and one daughter, the mothers of whom are four. All but one of his children live in Britain or the United States.
He is buried in the village of Nyangoma-Kogelo, Siaya District, Kenya.
Barack H. Obama, is the father of Abon'go Malik Obama, the oldest child and head of the Obama family, President Barack Obama, and David Opiyo Obama among others.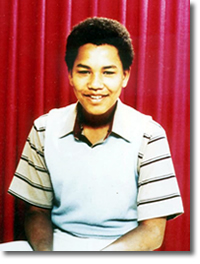 Photo: David Opiyo Obama (1968-1984), son of Barack H. Obama and baby brother of Abon'go Malik Obama.
>> Profile of Barack H. Obama on Wikipedia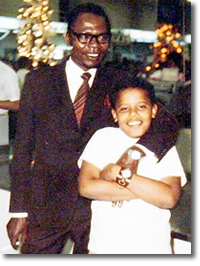 Photo: Barack H. Obama and Barack Obama, Jr. during father's visit with his son in Hawaii. (Source: Wikipedia)
All photos exclusive copyright of the Barack H. Obama Foundation.